Re-imagining the workplace to enable the Future of Work
Is your company ready?
Culture Determines Success
Culturally driven companies have 18% more revenue per employee than the average*
Only 15% of employees globally are engaged in their work*. However, a defining characteristic for high achieving companies is a strong and empowering culture.
Engagement in the workplace increases customer satisfaction by 10%* and sales by 20%*
Companies with an empowering culture increase employee engagement and ensure more profitable customer relationships.
The cost of one bad hire alone can exceed $25,000*
If an employee isn't well-suited for the job or has a bad attitude and low engagement, he or she could significantly impact the company's bottom line.
It is easier to attract and keep high achievers for companies with a clear purpose
High achievers and high potentials are increasingly more difficult to recruit and retain, and a purpose aligned with who they are is one of the most important aspects that attracts them to one company over another.
Organizations with a strong culture are hard to copy
The quickening pace of innovation means business models are more easily replicated. The ultimate competitive edge is a vibrant culture able to adapt and find new ways to succeed.
Millennials will be 50% of the global workforce by 2020*
Millennials are gaining relevance in our societies as employees and customers. They have new priorities and are more concerned about the 'why' rather than the 'what' both for companies they work for and buy from.
*Source: Gallup statistics, Career Builder Survey, PWC Workforce of the Future
Culture can be designed
30minMBA is an award-winning company dedicated to increasing workplace engagement through cultural design and actionable learning. We empower companies through cultural transformation; preparing them for the Future of Work. We help you re-design your culture to keep and attract high achievers and to build a strong base focusing on purpose, values, and empowering behavior.
Re-Design Your Business Culture
You realize you need to do something different. You want to keep and attract the best people. The culture in the workplace should be the foundation on what you're building your amazing company, but that's not what's currently happening. 30minMBA helps you re-designing your culture to keep and attract high achievers and to build a strong base focusing on purpose, values, and empowering behavior.
Scale Your Thriving Culture
Your company grows quickly, and you're thrilled over that. At the same time, it becomes more challenging to maintain your thriving culture and to keep investing in your people. 30minMBA helps you strengthening and scaling your culture, so you can keep growing your business with a culture as strong as it was when you started.
Develop Your Talent
You know your teams' talent is impressive and the potential to reach greatness is there. At the same time, you miss the right tools to empower your workforce and enable a continuous growth. 30minMBA helps you building the structure to lead on potential, develop your workforce's strengths and encourage creativity.
Highlights of accomplishments
Bridging the gap between what science knows and what business does
Let's re-imagine your workplace
To make sure you create and maintain a thriving culture, and to keep the right people to grow your company, we're offering many ways to support you.
Cultural Design
Custom designed consulting service to re-design your culture to keep and attract high achievers and build a robust and scalable business over time focusing on purpose, values, and empowering behavior among all employees.
Futuristic Work
Custom designed consulting service to boost creativity and productivity with futuristic leadership techniques, increased employee autonomy, and strength-based development aimed for mastery.
Recruit and Retain on Culture
Custom designed consulting service to build a thriving and engaged workforce by aligning your recruiting, training and performance measurement with best practices and your culture.
Actionable Online Learning
We, the 30minMBA team, built Be Brilliant Academy with the purpose to empower individuals to reach their full potential. Our ambition is to be the champion of all high achievers by designing actionable on-demand online courses founded in science, psychology, and extensive expert experience. We also offer Performance and Achievement Coaching for you to come closer to reach your full potential. Develop yourself and your people skills in negotiation, public speaking, self-control and more to help them thrive.
Keynote on Culture
As an award-winning entrepreneur and renowned speaker, 30minMBA's founder and CEO Therése, has graced countless stages as a Keynote Speaker and inspired 10,000s of people around the world over 15 years. She speaks in front of large and small audiences with great passion and also delivers bespoke packages for corporate events on topics such as the Future Work, business culture, workplace engagement, and mindset.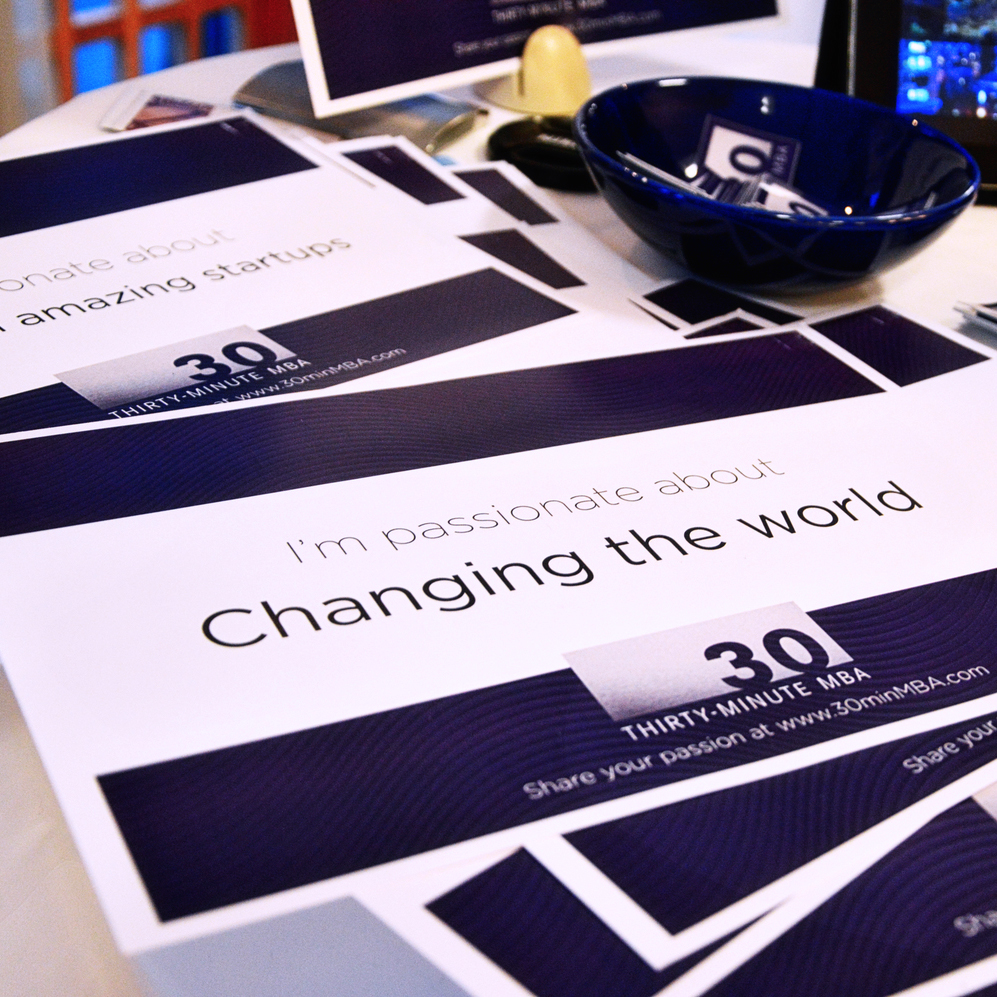 Curious about how culture can be designed?
Watch one of our Founder and CEO's, Therése Gedda, keynotes on culture
Wall of Fame
30minMBA is an established brand with a passionate team and an internationally recognized impact. One of the awards that we are especially proud over is Sweden's largest prize for innovators in memory of Alfred Nobel – SKAPA. Here we received 'The Future Innovation Award' (2015). SKAPA is Sweden's largest and most prestigious innovation prize. Moreover, our Founder and CEO, Therése Gedda, has been recognized as one of the most influential and impactful individuals in the tech and startup communities in the Nordics by Nordic100 (2016). We have also won the European tech conference alliance, which has put us on the map as a leading European startup (2016).